Caribbean Pearl & Silver Cob Coin Earrings
$

50.00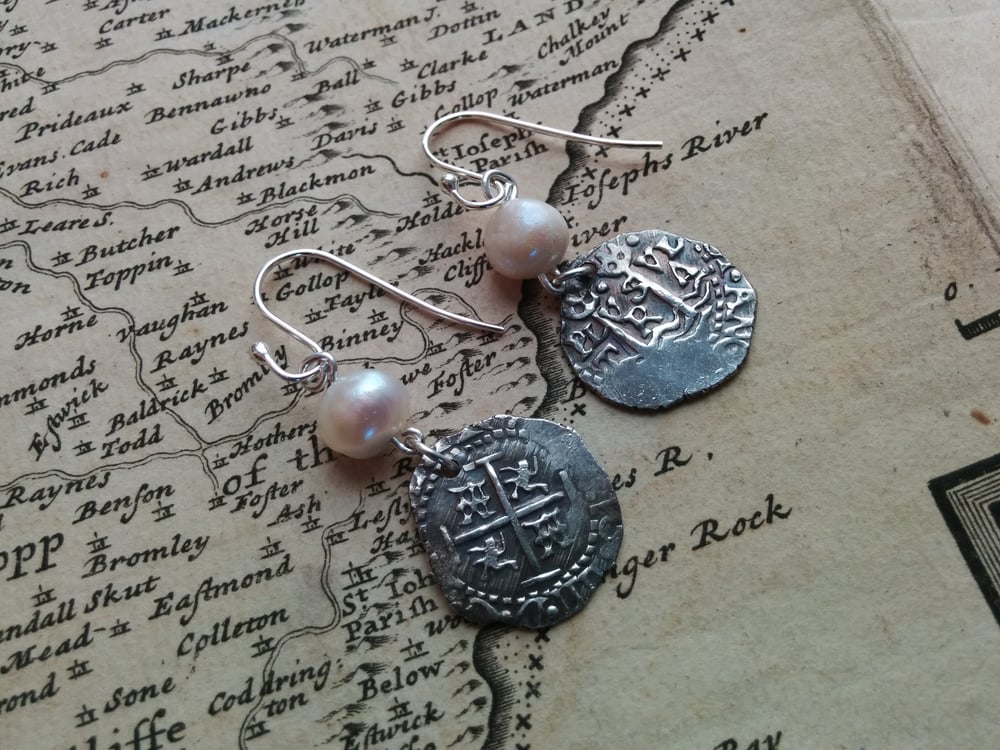 HANDMADE REPRODUCTION
A beautiful pair of earrings reminiscent of treasure hidden in white shell sands, lush isles, and breathtaking azul Caribbean waters. This gorgeous pair features hand-minted Spanish silver coins set below two iridescent baroque pearls. Both silver and pearl are similar in shape and style to artifacts recovered from sunken Spanish galleons.
One or two of these coins was about equivalent to a days wage for a sailor. This coin type is dated to 1652, in what is known as the 'buccaneering age' of the Caribbean.
PRODUCT INFO
- Coins are hand struck from ~ 1.5g of 99.9 pure silver (x2) and can be finished either as tarnished and polished (in the photo) or bright polished (all shiny and no tarnish). Simply specify in the checkout.
- Solid sterling silver earring hooks and wire (not cheap silver plated copper)
- Just like the originals, each is hand struck, so allow for slight irregularity and variance from the photos
- Natural baroque pearls very similar to ones recovered from shipwrecks like the Atocha and Santa Margarita
(pearls are natural and will vary slightly from pair to pair, so allow for slight irregularity and variance from the photos)
©2014 Awestruck Workshop
All rights reserved