Coenwulf of Mercia Anglo-Saxon Gold Mancus
$

30.00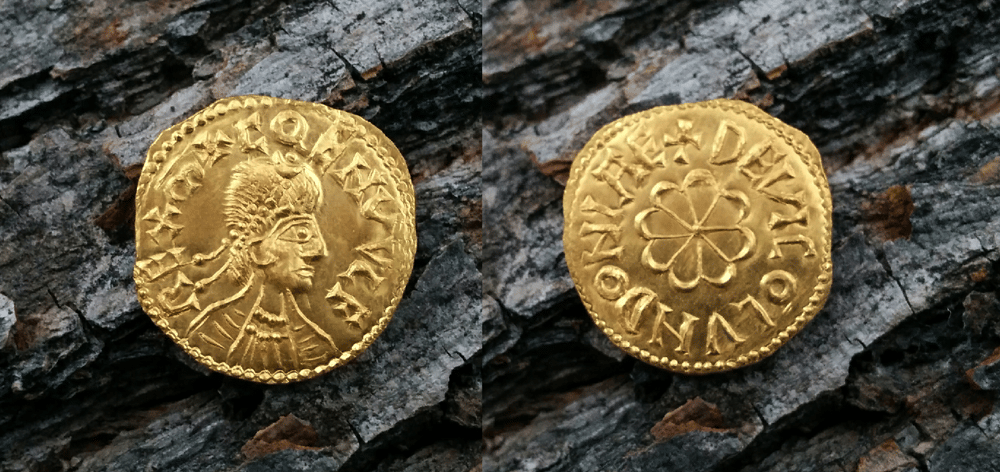 HANDMADE REPRODUCTION
This is a traditionally hand minted (not cast) reproduction of the most expensive British coin ever purchased.
They are exceedingly rare and in 2001, a metal detectorist found one in a riverbank which was acquired by the British Museum for £357,832.
However in it's day, one of these would have been worth about 30 days wages for a skilled worker of the early Middle Ages.
Dating back to the late eighth century, (AD 796-821) these gold coins (known as a 'mancus') were struck in London under the Anglo-Saxon king Coenwulf of Mercia. Mercia was a kingdom which occupied much of central, modern England, and was eventually conquered by the Vikings. "Mercia" translates to "border peoples".
Coenwulf was a king among warring kingdoms in a divided Dark Age Britain. He waged war on the Welsh and crushed a notable revolt in Kent. Upon Eadberht's return from exile in Francia, he had sought to claim the Kentish throne. Upon hearing this, Coenwulf waited for papal approval to reconquer Kent. Once approved, he attacked the city, capturing Eadberht, and some sources say Coenwulf blinded him and cut off his hands before setting him free.
Obverse: Late Roman styled bust of Coenwulf and COENVULF REX M + (Coenwulf King of the Mercians)
Reverse: Ornate floral cross and DE VICO LVNDONIAE (from the vicus of London)
PRODUCT INFO:
- 19-21mm diameter
- If ordering in silver, 5g pure silver (99.9 purity)
- If ordering in gold, 4.3g pure gold (24kt/99.9 purity)
- Just like the originals, each is hand struck, so allow for slight irregularity and variance from the photos
- All of this type will be marked discreetly with a tiny punch on the back or side making it a legal 'replica'
©2016 Awestruck Workshop
All rights reserved